IS YOUR DOG OR CAT FIT TO FLY to Australia?
Qantas airline flying to Australia, has brought in new rules for pets travelling on their airline. Snub nosed Animals need to have a BOAS (Brachycephalic Obstructive Airway Syndrome) check before anyone can book a flight with Qantas.
Which pets need this test?
This is for snub- nosed pets. The ones with shortened or flattened noses, known as brachycephalic, snub-nosed or flat-faced breeds, These popular pet breeds include the lovable French Bulldog, Boxer, Chow Chow and others. These breeds have a higher risk of health complications due to their short snouts so Qantas has brought in this new rule.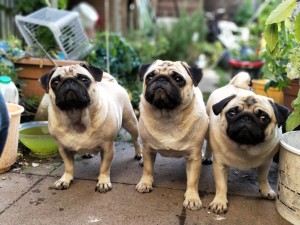 Who can do the BOAS FIT to FLY test?
This is a test done by a qualified vet who is a member of the AVA (Australian Veterinary Association) and in our instance we use Dr Matthew Murdoch at Homevet, he is an AVA member and LAR certified meaning passed the IATA's Live Animals Regulations course.
What is the BOAS test?
Your pet will undergo a thorough clinical examination, assessing the breathing function but also looking at other risk factors such as obesity, temperament and any pre-existing significant medical conditions.
The vet will ask certain questions: including
Has your pet ever collapsed or had any kind of fits or convulsions, or do you have any suspicions/concerns about his/her health in this regard?
Is your pet noisy when he/she breathes, when at rest or after light exercise?
Does your pet have epilepsy? Are they on any long term medications and which?
The vet will examine your pet and grade their body weight condition, and the size of nostril, among other things.
The vet will check how your pet responds to exercise test, and crate confinement test.
How to book a BOAS test?
Find an AVA member vet. For booking a test with our AVA member vet Dr Murdoch please email our housecall clinic pets@homevet.com.hk or whatsapp 9860-5522.
For enquiries on Australia moves or Qantas snub requirements, contact a shipping agent, for example our sister company Ferndale, by fill in the form https://www.ferndalekennels.com/shipping/ or email enquiry@ferndalekennels.com
Who came up BOAS Fit-T0-Fly checklist?
Created by IPATA R&D Taskforce (with Dr Pahl) in co-operation with City University (HK) in effort to improve pet travel safety, and reduce risks for Snub nosed pets.