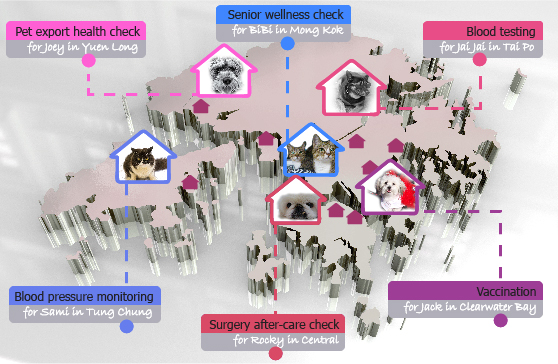 Best diagnostic medicine is dependent on a thorough examination and history. Our appointments average 30 minutes duration and we pride ourselves on our experience and diagnostic skills.
Homevet's comprehensive home services include:
Consultations and Health Examinations
Wellness and preventative health care programmes
Home Hospice care
Vaccinations – tailored to your pets needs
Pet Passports and Export Health Certificates
Blood and other diagnostic tests
Blood pressure monitoring
In-home abdominal ultrasound
Ocular pressure monitoring
Diabetes home monitoring program
Gentle at home end-of-life options
Microchipping
Hospitalisation, Surgery and Referral arrangements
If your pet requires further examinations, procedures, treatment or surgery that are unable to be done or completed in your home, arrangements will be made for these to be performed at an affiliated veterinary hospital. As part of our adherence to the highest safety standards, we won't perform any anaesthesia and surgery at home or in a vehicle.
Our aim is to be the most convenient and caring veterinary service you have ever experienced.