Our veterinarians are Dr Matthew Murdoch and Dr Heidi Hon. Please call or email us, our veterinarians are happy to chat about your pets.
We have a Cantonese-speaking Practice Manager Ashley Au who will be your assistant for any questions you may have on the phone, or in person at the house-call.
Our Practice Manager will help you arrange housecall appointments, order food and medicines, and be your primary point of call for if you have any questions, and if our veterinarians are busy consulting. Our Practice Manager has over 10 years Veterinary Nursing experience, and is perfectly suited to help you with any of your questions!
About Ashley Au:
'On one of my holidays back in 2002, my friend's husband vet clinic was short of staff, my friend called for help, and I thought, why not? That day, I saw lots of cute dogs and cats, and the love between owner and their pets… that's how I fell in love with this job!'
Ashley has been working as a Veterinary Assistant since 2002, and a manager from 2005; Her hobbies usually are enjoying playing and taking care (like grooming/bathing) of her pets, and watching crime scene/detective movies.
Ashley says 'The challenge, the people, and the pets I've met, makes me understand that love has no boundaries, and knowing the importance of cherish. Don't give up before trying, miracles sometimes do happen…'
Joey Ho: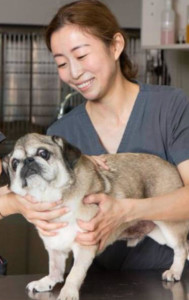 I have worked in the Veterinary industry since 2004.  It's a privilege to do my best to take care of all patients. To be able to see a patient's condition has improved, is my daily motivation.
I like travel around in the world when I have the chance, and I'm happy to see pets can travel with owners and even share the seat next to each other in Europe; i really wish Hong Kong can have that day very soon.