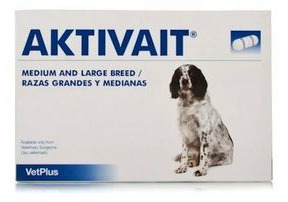 (English) Aktivait for medium/large dogs
(English) A nutritional supplement to aid healthy central nervous system and brain function in older dogs.
Aktivait contains:
Phosphatidylserine – a phospholipid, which helps to maintain noraml cell membrane function
Omega 3 fatty acids – eicosapentaenoic acid (EPA) and docosahexaenoic acid (DHA)
L-Carnitine – essential for cellular metabolism and healthy mitochondrial function
Acetyl L-Carnitine – essentail for cellular metoblism and healthy mitochondrial function, works synergistically with Alpha Lipoic Acid
Co-enzyme Q10 – used to aid energy production, also potent antioxidant effects
Selenium – an antioxidant and important mineral in maintaining natural cognitive function
Vitamin E – a very potent antioxidant and lipdi soluble vitamin with cell-protecting effects
Vitamin C – a water soluble antioxidant vitamin
Alpha Lipoic Acid – a coenzyme used in mitochondrial metabolism, also has antioxidant effects
This is a Prescription item. If you do not have a prescription, please book an appointment with our clinic 9860 5522. If you have an up-to-date prescription from another vet, please email the prescription to pets@homevet.com.hk or send it via WhatsApp: +852 9860 5522.